Soul Surfer is a book for Bethany Hamilton.
Bethany Hamilton is an American professional surfer, who suffered from shark attack in 2003.
While the shark attack, she has lost her left arm.
It was just a regular morning when Bethany and her friend Alana went surfing. While Bethany was lying on the beard, a 14 food long shark has beaten her hand. That time, she was just 14 years old.
She was quickly driven to the hospital. At the arrival in the hospital, she has already lost almost 60% of her blood, so she was under hypovolemic shock.

After few weeks, she was doing just fine.
Later on, she get back on suffering and become winner on Pipeline Women's Pro Surf Competition.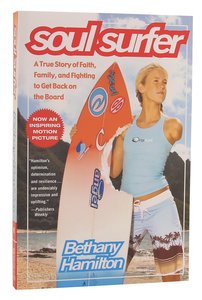 Here is a link with the book of her story: "Soul Surfer Book"